Even the best machine will fail to work properly if they aren't periodically cleaned, lubricated and adjusted. Can you afford expensive repair bills, unproductive down time and early equipment replacement costs? CRS Printek offers Dallas area offices the perfect solution: laser printer cleaning!
Cleaning: The Affordable Answer!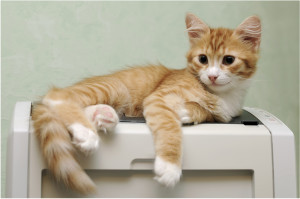 For as little as $115.00 you can have up to 4 printers inspected and cleaned with our comprehensive PREVENT-13 process. To keep your printers in peak working condition, contact us and save hundreds, perhaps thousands of dollars over the life of your printer!
Why Printers Fail
The performance of any machine suffers when its internal components become clogged with debris. Your printer is no exception. Paper dust is released inside your printer with every page that moves through it. Microfine toner particles regularly escape the printing process to roam freely inside your machine. As this debris builds up, it causes serious wear and tear on the mechanical components, and impairs the functioning of delicate electronic circuitry. The result? Paper jams, degraded print quality, odor, noise, and eventually a complete breakdown. In some cases, it may cost you more to repair the printer than to replace it. Why take the chance?
When our trained technicians perform a PREVENT-13 Cleaning, they not only follow the 13-step process but can replace parts, as needed. You pay only for the parts – no additional service charges accrue.
Our PREVENT-13 Laser Printer Cleaning and Maintenance Program is available for Dallas, Plano, Richardson, Addison, Allen, McKinney, Frisco, Carrollton, Farmers Branch, Garland, Wylie, Mesquite, Rockwall, Rowlett, Irving, Grapevine, and Lewisville area businesses and non-profits that need efficient and effective laser printer cleaning and maintenance.